QI ZHUO

History never really says goodbye,
SEP 10th - OCT 29 th, 2022
PARIS-B is pleased to present Qi Zhuo's new solo show from September 10th until October 29th : "History never really says goodbye". The approach that breaks the principle of secularism is Qi's signature language of banter, which juxtaposes "irreverence" with "reverence".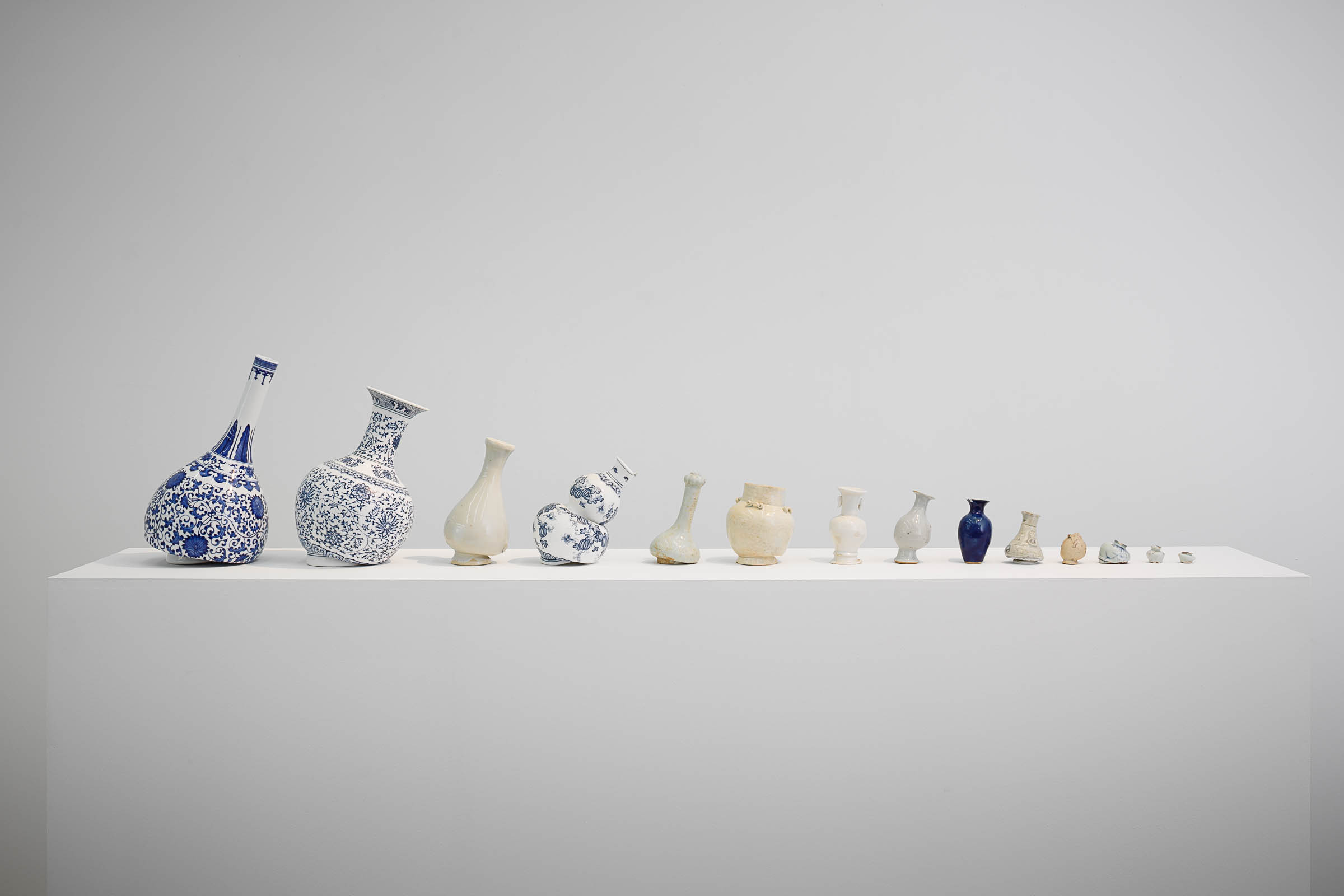 Online exhibition of Qi Zhuo for his solo show : History never really says goodbye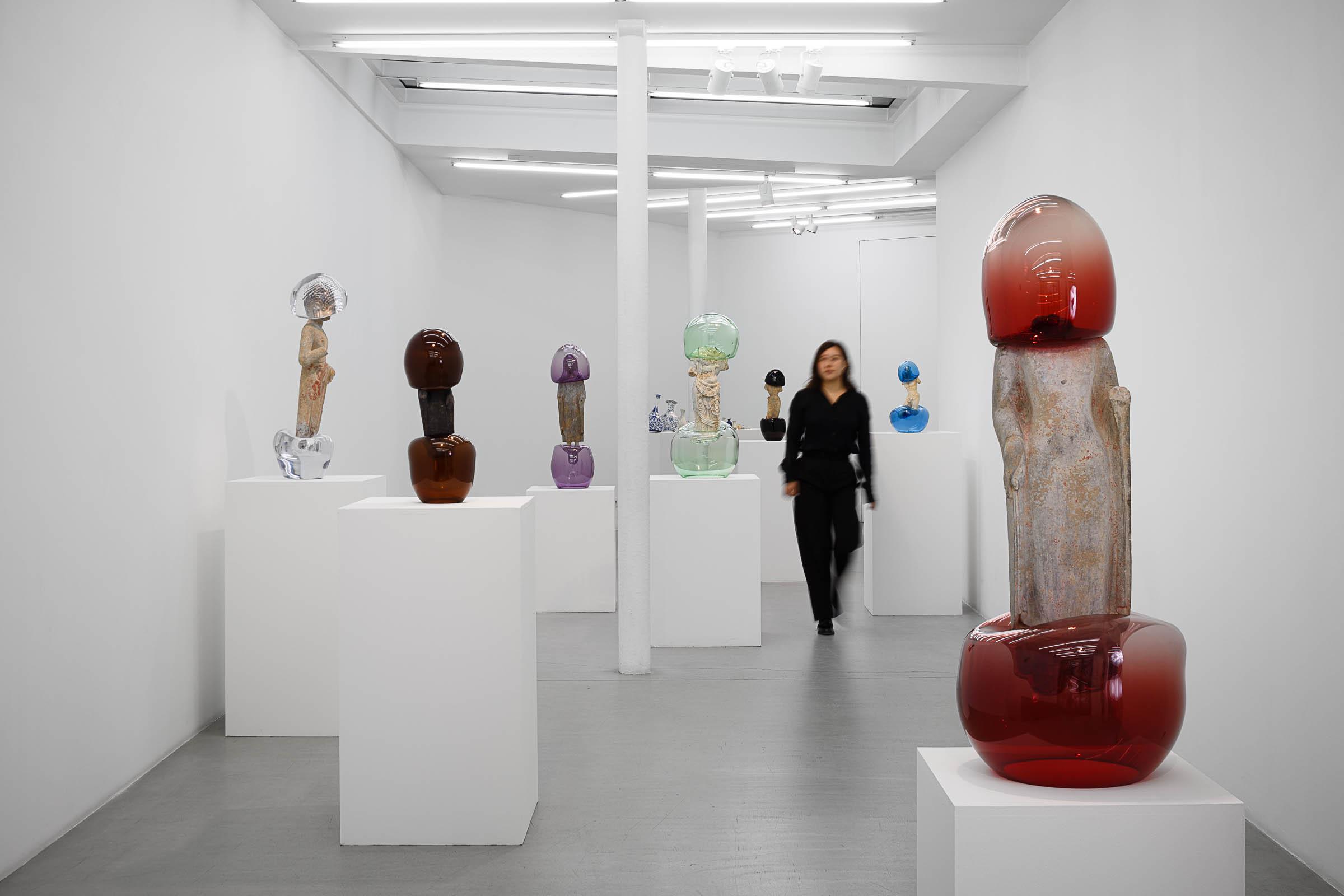 The artist "restores" Buddhist statues from China's Five Dynasties and Ten Kingdoms period (A.D. 907-960) in glass bubbles. From which we perceive the temporal notion of "slowness", an eternal splice while maintaining a geographical fluidity. Such style of damaged Buddhist heads, evident in Buddhism's many rounds of rising and falling, represents the violent movements of religious icons in the East. Eventually, they established a distinct image out of the chaos and confusion. Over the years, such images became detached from its own aesthetic origins and followed Qi like ghosts. They enter the global language and became metaphor of his "irreverent" as evidence of time and space. In his false "restoration", Qi supplements its intergrity with temporally and geographically irrelevant materials.
These works continue the dialectic of the Bubble-Game series exhibited in 2020 : when he takes a religious icon from an ancient civilization as the material for his work, he dissolves the notion of "icon" in convention; Moreover, the creators of a religious icon was usually commonplace craftsmen who serve the public designated by the religion and who do not need to have their own free will or strivings of innovation.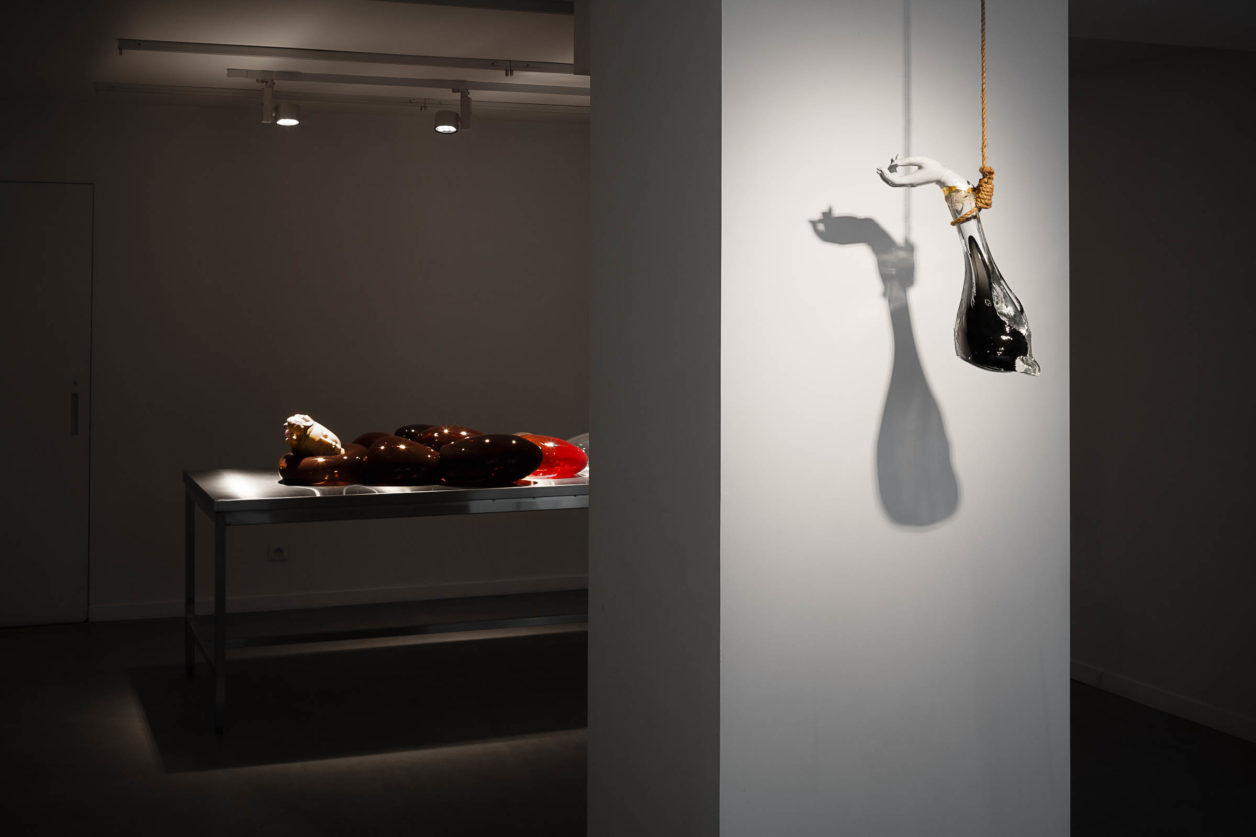 Sharing Mercy, 2022. Porcelain, glass, gold leaf 22K. 50 x 17 x 18 cm 
This "reinvented statue", which consists of several colored glass bubbles, is no longer presented in a sacred place, but now rests gracefully on a stainless steel butcher's table. From a butcher's point of view, the exhibition space could be considered a "Buddha butcher shop". Hanging from the ceiling of this butcher shop, a glass ham becoming the arm of the statue stmbolizes the gesture of Bodhisattva. This hand which for thousands of years pointed upwards, now points downward to the earth. This mischievous destruction, undermining the norms and conventions of its own culture : let's call it liberation .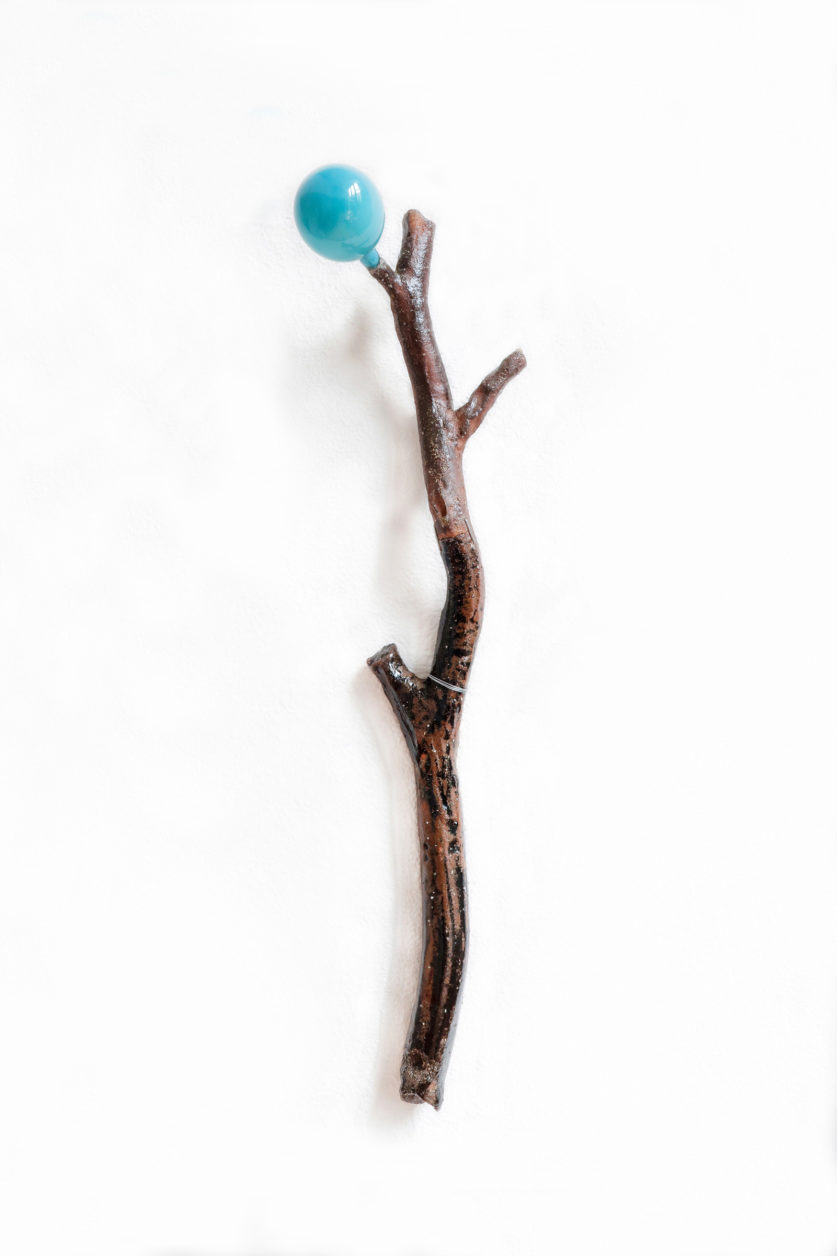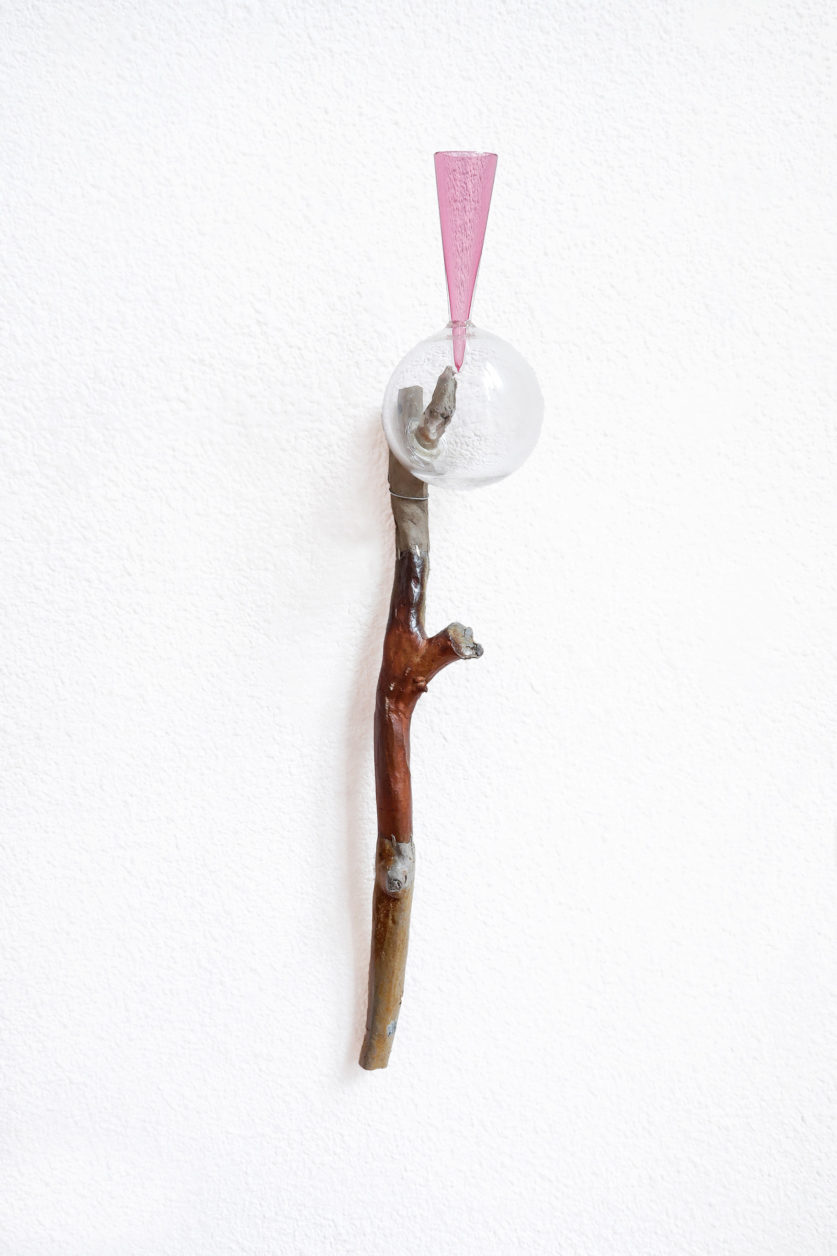 Beautiful and desolate dead branches, often found in Chinese paintings of the Southern Song Dynasty (1127-1279), late Ming dynasty (1368-1644) or in Japanese paintings from the Edo period (1603-1867), which usually represent the repository feeling of travelers or the disillusionment of literati. In the series Piercing -game, Qi renders the dead branches by shaping ceramics in a wood-fired kiln. This transformation between ceramics and wood. Who give birth to whom ? Which one is the subject of the work ? But his mischief intensifies even further: the broken branches are joined together by staples, and the failed pieces from the glass workshop are casted on the end of the branches, as if the flowers of impossibility are blooming on the branches, as an impossible outcome of the history .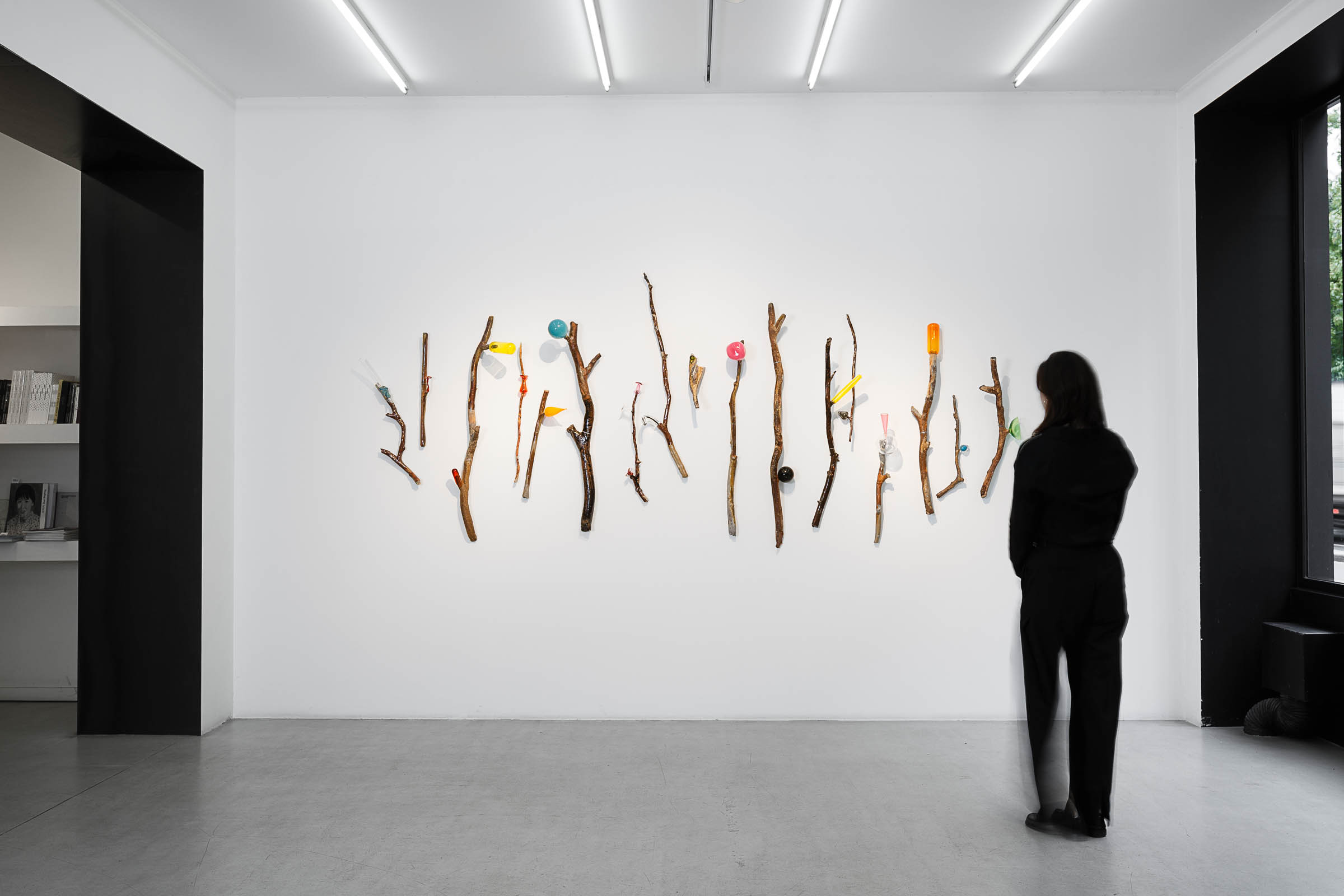 This contradiction can also be seen in the Bamboo Chairs series, in which Chinese porcelain bamboo takes the form of a chair. The viewercan neither anticipate nor judge whether it is solid or flexible. Like Piercing-game, Bamboo Chairs returns to echo the dialectic of the Ancient East. Seemingly poetic, yet the pieces are full of contradictions, uncertainties, doubts and a comic restlessness that the artist delivers with apprehension. These ceramic bamboos are presented to us like cultural relics from a museum, similar to ancient Chinese musical instruments or tools from a workshop. They look familiar to us but no one is able to determine their origin and function.


Nowadays, the Buddha's head is not in a temple, nor in a museum but playing with glass bubbles freely laying on a butcher's block. The approach that breaks the principle of secularism is Qi's signature language of banter, which juxtaposes "irreverence" with "reverence". The tension engendered from this language game of disorder is the same as we couldn't identify someone on a street in Europe hundreds years ago as a dandy or a philosopher. After looking at all the works by Qi Zhuo, I am reminded by Chögyam Trungpa Rinpoche. He once got drunk and took off the Buddha amulet from his neck and soaked in a glass of wine. He said : I would also like the Buddha to enjoy what I enjoy.
**(1939 –1987, Chögyam Trungpa was a Tibetan Buddhist meditation master and holder of both the Kagyu and Nyingma lineages of Tibetan Buddhism)
Qi Zhuo was born in China in 1985 in Fuxin, Liaoning province. Graduated with honors from Le Mans Higher School of Fine Arts (the DNSEP Diploma), post graduate program KAOLIN of ENSA Limoges in France and Geneva University of Art and Design in Switzerland, he has been working and living in France since 2008. He was in residency at Fondation Martell in Cognac, France in 2020.