Hervé Priou's work is a huge celebration. Sometimes cheerful, sometimes worried, it celebrate the movements of our transient era. Beginning with the idea that the reality is as flexible as plural, the artist use those changes as a register of shapes which he is using to create, step by step, a singular picture of the reality.
Born in France in 1990. Hervé Priou graduated from la Cambre (Belgium) where he studies links between art and urban space. After two years of roaming, he joined Jean Michel Alberola's studio at the Beaux Arts de Paris to focus on oil painting. Graduated since 2018, he lives and works between Paris and the countryside of center of France.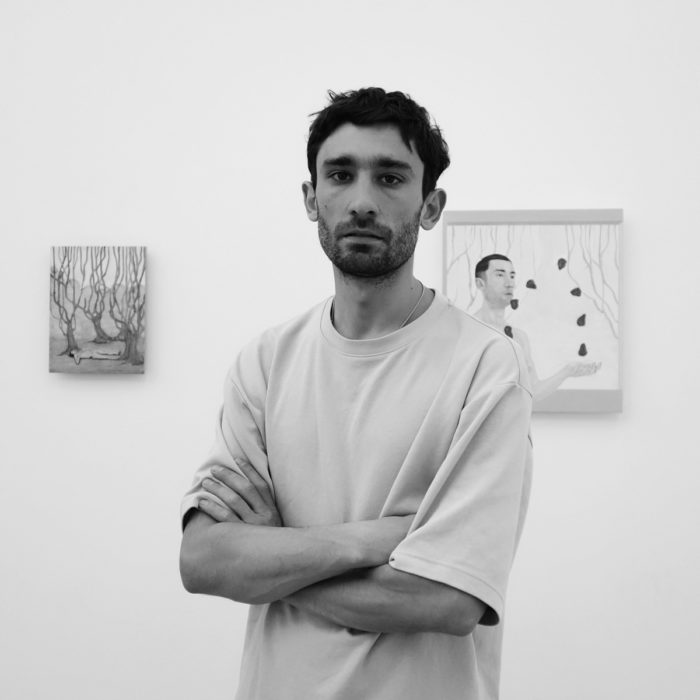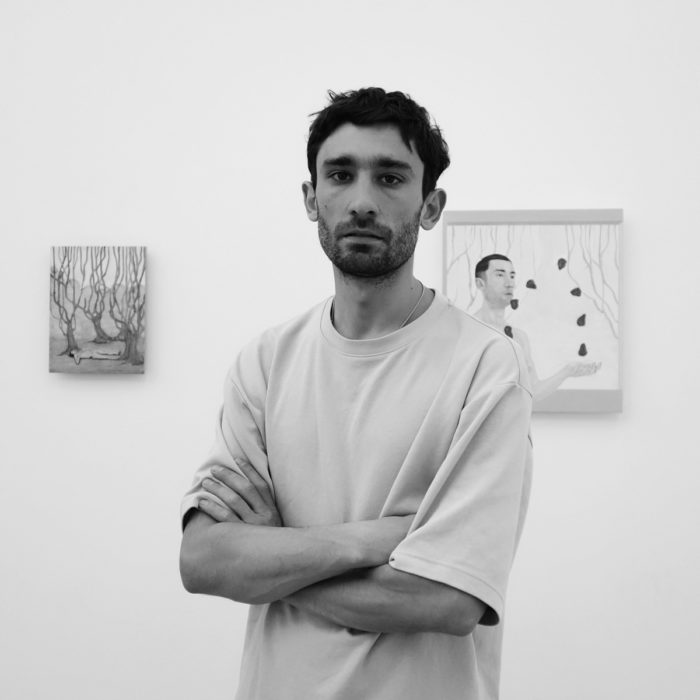 Born in France in 1990.
Lives and works between Paris and center of France.
EDUCATION
2018 Beaux-Arts de Paris, France
2013 La Cambre, Belgique
EXHIBITIONS
2020
Regard hors-champ et paysages, collection agnès b., la Fab, Paris
Moins de trente ans, Galerie du Jour., la Fab, Paris
La Hardiesse, collection agnès b., la Fab, Paris
Ouverture de la Fab, Galerie du jour, la Fab, Paris
2019
Super Position, exposition collective, Lycée Julie Victoire Daubié, Argenteuill
Huiles, Noucmas, Athènes, Grèce
Artistes Paysans, exposition collective, Espace Création, Lacelle, Corrèze
Finale, exposition des diplômés du DNSAP 2018, Palais des Beaux Arts, Paris
2018
Par amour du jeu, exposition collective, Magasins Généraux, Pantin
DNSAP, Ecole des Beaux-Arts, Paris
2017
Porte savon, exposition collective, l'Amour, Bagnolet
Paris Saint Pierre, exposition collective, Saint-Pierre-en Port
DNA, Beaux-Arts de Paris, Paris
2015
Maman, Papa où ai-je mis mes doigts, exposition personelle, Biennale de Lyon, les Limbes, Saint – Étienne
Les Noces de Cana, exposition personnelle, les Limbes, Saint – Étienne
Muet2, exposition collective, Frac Paca, Marseille
2014
Conduite oblique, exposition avec Marine Semeria et Anaïs Hay,
le Praticable, Rennes, France
2013
Toranj/Tour, installation permanente, résidence Karkatag, Svilajnac, Serbia
Ultraclean, exposition avec Rachel Simonin, la Soucoupe, Bruxelles, Belgium
Zone Nord, exposition collective, Maison des Arts de Schaarbeck, Bruxelles, Belgium
2012
Domuzej 1 / Homuseum 1, exposition collective, Galerie Legat Milice Zorić i Rodoljuba Čolakovića, Belgrade, Serbia
Calendar of Lies, exposition collective, Hôtel van de Velde, Brussels, Belgium
Hybride, exposition collective, la Cambre, Bruxelles
2011
La paire, exposition collective, le 157, Bruxelles, Belgium
Parcours, exposition collective, la Cambre, Bruxelles, Belgium
RESIDENCIES
2019
Huiles, Noucmas, Athènes, Greece
2017
Almost like home, Bimslavja, Belgrade, Serbia
2013
Un chantier au Train Fantôme, Train Fantôme, Grenoble, France