By means of a realistic figurative painting of classical tradition, Dorian Cohen focuses on the creation of urban imagery among landscapes, mirages and naturalistic genre scenes. Organized in a series of images, his work builds a genealogy of urban narratives by studying the pictorial and narrative mechanics at work between each of these series.
Dorian Cohen is a young French painter born in 1987. He lives and works in Paris. He has a degree in urban design and engineering and is self-taught as a painter. His paintings were revealed to the art world in 2017 during the 62nd Montrouge Salon. In 2018, he won the Colas Foundation Award and in 2019 he was nominated for the 10th edition of the Sciences PO Contemporary Art Award.
Exhibitions :
Bien que cela soit naturel
Dans l'Intérieur des Silences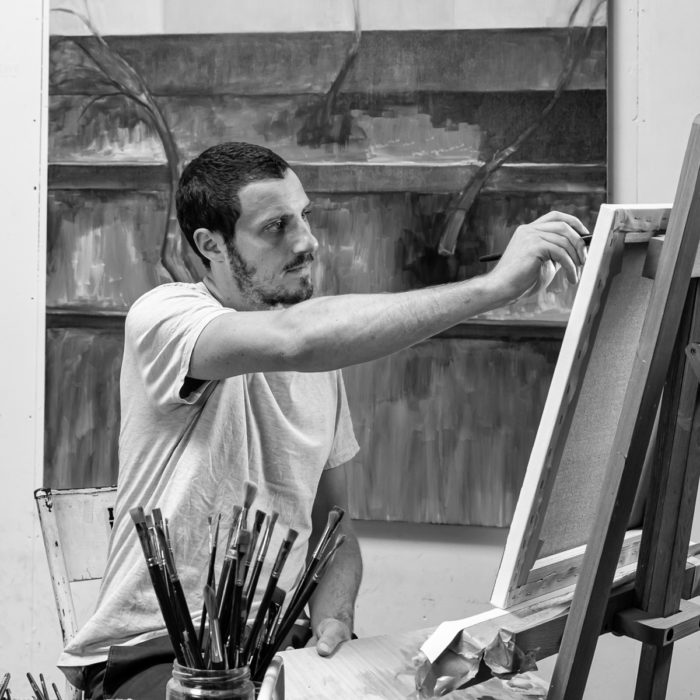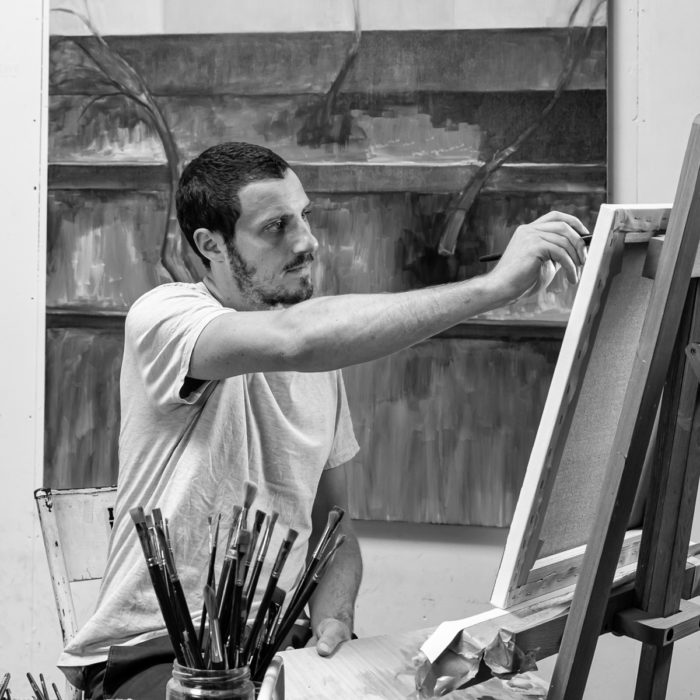 Born in 1987 in Paris, lives in Paris and works in Aubervillers
Self-taught in painting
Master degree in Municipal Engineering, Urbanism and Architecture, 2011
COLLECTIONS
Fondation Colas
Fond GreenFlex d'Art Contemporain
Fond d'Art Contemporain Municipal Ville d'Ivry-sur-Seine
Collection de l'Association Florence pour l'Art Contemporain
SOLO EXHIBITIONS
2023
Dans l'Intérieur des Silences, PARIS-B, Paris, France
2021
Bien que cela soit naturel, PARIS-B, Paris, France
2020
Même le ciel sera vert, UGC Artbox, Bruxelles, Belgique
Nous danserons un jour ensemble, L'aparté, Iffendic, France
2019
Même le ciel sera vert, Galerie LPD'O, Brussels, Belgium
«Des villes,des spectacles,une histoire», 2Angles, Flers, France
Gardens, La Ritournelle, Chateauroux, France
2016
Itinere, L' A.R.P.A.C., Montpellier, France
GROUP EXHIBITIONS
2022
Art Paris Art Fair 2022, PARIS-B, Grand Palais Ephémère, Paris, France
2021
La Petite Collection, Galerie Bertrand Grimont, commissariat Florence Lucas et Pauline Lisowski, Paris, France
Paris Art Fair 2021, Scène Française – Portrait et Figuration, Art Paris, commissariat Hervé Mickaeloff, Paris, France
Vacation d'Art Très Contemporain, Piasa Auction, Paris , France
Galerie Paris-B « Here, There, Somewhere » avec Martin Parr, Adrien Belgrand, Marion Charlet, Volkan Aslan et Mehmet Ali Uysal
2020
Jeune Création 70, Galerie Thaddaeus Ropac, Pantin, France
Le pouvoir se charge de vous, Galerie Jeune Cration, Paris, France
L'écho du silence, 16K, Kremlin-Bicêtre, France
Art au Centre #3, Liège, Belgium
Momentum, Galerie Episodiques, Paris, France
Lauréats du Prix Master Toile, Mairie de Barbezieux, Barbezieux Saint-Hilaire, France
2019
The Nationa(a)l artist supermarket, Brussels, Belgium
10ème Edition du Prix Sciences Po, Paris, France
Twenty Five elements, Espace Commines, Paris, France
2018
Fondation Colas, Paris, France
Park, Atelier W, duo avec Lucie Douriaud, Pantin, France
Repetition as originality, 6B, Saint-Denis, France
2017
L'esprit du temps, Espace Commines, Paris, France
Kids Commissaires, Galerie Arty Family, Paris, France
62ème Salon de Montrouge, commissariat Ami Barak, Montrouge, France
L'Urbain, Galerie Episodiques, Paris, France
2016
Cabane Georgina #03, Marseille, France
CRAC 2016, Maison des Arts, Champigny-sur-Marne, France
Parcours d'Artistes, Les Passerelles, Pontault Combault, France
2015
«Rêver peut-être», Galerie La Ralentie, Paris, France
AWARDS AND RESIDENCIES
2022
Artist in residence, Therapeia, Paxos, Greece
2020
Winner of Master Toile Schorlarship
2019
Sciences PO Award for Contemporary Art, nominated
Artist in residence, L'Aparté, Trèmelin, France
Artist in residence, 2angles, Flers, France
Le Souffle, Sion, Winner of BeeMedias Schorlarship
2018
Winner of Fondation Colas Award
PUBLICATIONS
2020
Nous danserons un jour ensemble, Editions L' Aparté Centre d'Art
2017
Catalogue du 62ème Salon de Montrouge
L' Art et ses Objets, Gaya Goldcymer, édition La Galerie Episodiques
2016
Catalogue d'exposition CRAC 2016
TV / VIDEO / PODCAST
2020
Court-Métrage, "Echo du Silence", WIPART
Podcast "Dorian's studio", The Room Projects
2018
Court-Métrage, "Dorian Cohen", WIPART
2017
France 2, "Les grands de demain s'exposent", Télématin
INTERVIEW OF DORIAN COHEN
Text from the catalogue of 62th Salon de Montrouge
By Anne-Sarah Benichou
With his incredibly detailed gurative painting, Dorian Cohen reveals the beauty and 57 strangeness of the great anonymous and artificial urban spaces that surround us. Halfway between a Caravaggio touch, in which collide an unbridled baroque nature and an antique ideal of perfection, and an admiration for Poussin's rigor in his precise touch and the gran- diloquence of his compositions, Cohen's landscapes, with their extreme formats (either very small or very large), confront examples of motorway infrastructure with unusual architectures and an abundant, troubling and even hostile nature, in an almost surrealist and strange interplay.
There is never any direct human presence in his works, just the evocation of man leaving his imprint on the landscape through its disproportionate and almost unreal constructions, like the curving motorway interchanges that ll the series Départ en vacances (Going on Holiday), begun in 2015. By reconnecting with a very classical practice of oil painting—proceeding by successive layers, "fat over lean," but also by choosing particular surfaces like these very small panels of varnished wood that recall Dutch still lifes—Dorian Cohen intelligently uses the history of painting to serve his discourse about the modern world, and man's relation to his environment, and praise the beauty of contemporary construction. Trained as a civil engineer before completely devoting himself to art, his work is lled with this technical, almost anal rigor, but also with a whiff of madness that, through discreet little touches, jostles the great concrete edifices, impressive and artificial, that we erect on Earth.