Depuis des années, Lauren et Adam collectent et accumulent des quantités innombrables d'objets obsolètes, tels que des coupons à gratter ou des billets de loterie, des cartes de baseball, des romans d'amour, des trophées, des cartes postales ou encore des « nudie cards ». Ces objets porteurs d'espoir et de réconfort animent leurs œuvres à grande échelle, soient-elles des installations vidéo, des sculptures, des dessins, ou encore des collages.
À travers la critique du rôle que les médias jouent dans la société de consommation avec la création et la fermentation de nos désirs et nos fantasmes, les oeuvres de Ghost of a Dream agissent comme une sorte de miroir sur les comportements, les espoirs et les confiances mal placées d'une époque où, à force de courir après des richesses et des bonheurs faciles, on oublie d'être heureux.
Lauren Was et Adam Eckstrom sont tous deux nés aux Etats-Unis puis ont étudié à l'école de design de Rhode Island. Ils ont fondé le collectif Ghost of a Dream en 2007. Leur travail a fait l'objet d'expositions aussi bien aux Etats-Unis qu'en Europe.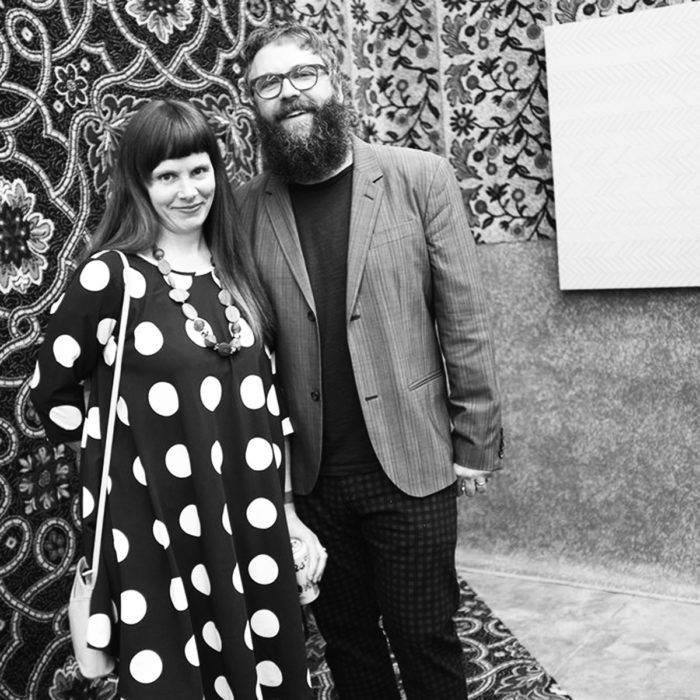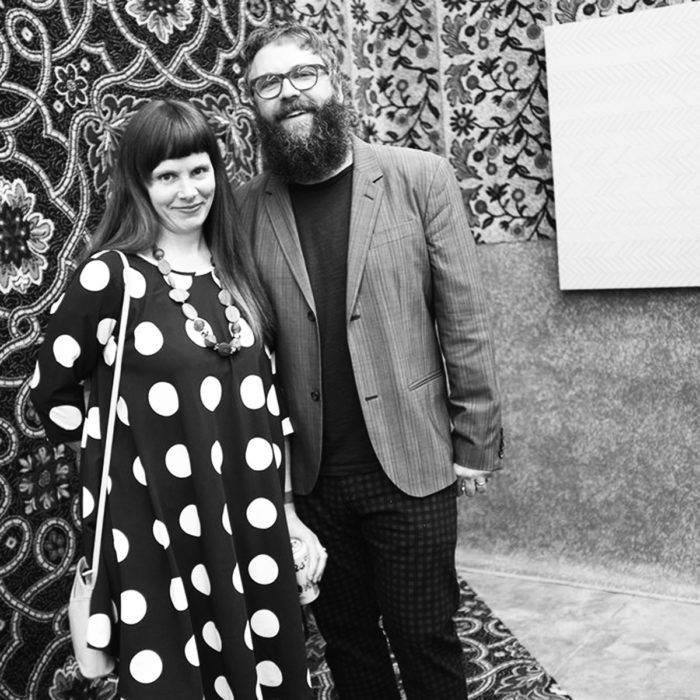 Adam Eckstrom
2005
Rhode Island School of Design, MFA Painting with Honors
1999
University of Minnesota, Minneapolis, BFA Sculpture and Photography
Lauren Was
2004
Rhode Island School of Design, MFA Sculpture with Honors
1999
School of the Art Institute of Chicago, BFA Concentration in Sculpture
EXPOSITIONS PERSONNELLES
2022
Aligned by the Sun (connections), Installation in situ dans la station Penn dans le cadre d'Art at Amtrak, New York, NY
If this is paradise… Geary Contemporary, Millerton, NY
sticking one's head in a hole, does not change the horizon Galerie Paris-B, Paris, France
2021
Aligned by the Sun (through the revolution) Ackland Art Museum, Chapel Hill, NC through July 2022
sticking one's head in a hole, does not change the horizon Galerie Paris-B, Paris, France
2020
Yesterday is Here, MassArt art museum Boston, MA
2018
Statistics of Hope, Collaborative exhibition with artist Jen Dalton, 601 Artspace, New York,NY
I'll be with you when the deal goes down, STANDARD SPACE, Sharon, CT art, Orthez, France
2017
At a Loss, For Words, LABspace, Hillsdale, NY
A Devil to Pay, CES Gallery, Los Angeles, CA
2016
Falling From Paradise, Satellite Art Show, Miami, FL
When the Smoke Clears: The Fair Housing Project, Smack Mellon, Brooklyn, NY
2015
A Good Run of Bad Luck, Rosefsky Gallery, Binghamton University, Binghamton, NY
Better is THE END – Deep End, Wassaic Project Exhibition, USA
Gone the Sun, Galerie Paris-Beijing, Paris, France
Looking Up, Davidson Contemporary, New York, NY
2013
Day is Done, Galerie Paris-Beijing, Bruxelles, Belgique (catalogue)
Collapse of Promise, Zadok Gallery, Miami, Floride
2012
Forever Almost, Davidson Contemporary, New York, NY
Remember When Tomorrow Came, Colorado Springs Fine Art Center Museum, Colorado Springs, CO
Sky's the Limit, Hunterdon Art Museum, Clinton, NJ
Our Favorite Pastimes, MCC Gallery, Omaha, NE
2011
we spend our lives as we spend our days, Gallerie Christoffer Egelund, Copenhague, Danemark
Everybody Wants Some Heaven, Art First, Santa Maria Della Vita, Bologne, Italie, commissaire Julia Draganovic
2010
The Price of Happiness, Galerie Paris-Beijing, Beijing, Chine
One in a Million, Vierter Stock Projektraum, Berlin, Allemagne
Future Perfect, The Freedman Gallery at Albright College, Reading, PA
This is it, Volta 6 New York, Cynthia Corbett Gallery
2008
Ghost of a Dream, Space at Alice Rhode Island, Providence, RI
EXPOSITIONS COLLECTIVES
2022
Masked Vigilantes Poster House, New York, NY
2021
shh, it's a secret Postmasters Roma, Rome, Italy
Imagining Data Museum of Craft and Design, San Francisco, CA 2021
Decoding Visual Arts Center of New Jersey, curated by Mary Birmingham
Sunrise Sunset Albany International Airport
2020
-MESS (Marker Emblem Symbol Signal), Standard Space Gallery, Sharon, CT
-Coming Soon, Art Austerlitz, Austerlitz, NY
2019
Mediums of Exchange, Fiterman Art Center, Brooklyn, NY curated by Lisa Panzera
Division of Labor, The Art Gallery of York University, Toronto, Canada
Baseball Show, Tiger Strikes Astroid, New York
Dot Conference, The Yard, Brooklyn, NY
2018
Statistics of Hope, Collaborative exhibition with artist Jen Dalton, 601 Artspace, New York, NY
2019
Mediums of Exchange, Fiterman Art Center, Brooklyn, NY curated by Lisa Panzera
Division of Labor, The Art Gallery of York University, Toronto, Canada
Baseball Show, Tiger Strikes Astroid, New York
Dot Conference, The Yard, Brooklyn, NY
2017
Vagabond Time Killers, The Wassaic Project, Wassaic, NY
State of the Art  Frist Center for the Visual Arts, Nashville, Tennessee
State of the Art Dixon Gallery and Gardens, Memphis, Tennessee
State of the Art The Mint Museum in Charlotte, North Carolina
2016
20th Anniversary exhibition, Smack Mellon, Brooklyn, NY
The City & The City, Denny Gallery, NY, NY
Summercamp, Galerie Paris-Beijing, Paris, France
State of the Art: Discovering American Art Now, Telfair Museum, Savannah, GA
State of the Art: Discovering American Art Now, Minneapolis Institute of Art, MN
Be My Guest, No Longer Empty, NY, NY
Sessions, Backslash Gallery, Paris, France
It's Funny Because It's True, Galerie Paris-Beijing, Paris, France
2015
HERE THERE NOWHERE, Galerie Paris-Beijing, Brussels Belgium
Makers Mark, Temporary Storage, Brooklyn, NY curated by Gingrow and Scoggins
And I feel Fine…, The ReInstitute, Millerton, NY
In Praise of Folly, NARS Foundation, Brooklyn, NY
The Ecstasy of Influence, Spring Break, NY
Here There Nowhere, Galerie Paris-Beijing, Bruxelles, Belgique
2014
State of Art, Crystal Bridges Museum of American Art, Bentonville, AK
Artist Ball, Brooklyn Museum, Brooklyn, NY
Summertime, Galleri Christoffer Egelund, Copenhague, Danemark
2013
SHINE, Textile Museum of Canada, Toronto Ontario
Wish Meme, at Old School for The New Museum's Festival of Ideas, NY, NY
Homeward Found, Wassaic Project, Wassaic, NY
Debris Field, Castle Gallery, College of New Rochelle, New Rochelle, NY
2012
How Much do I Owe You? No Longer Empty, LIC, NY, commissaire Manon Slome
Summertime, Gallerie Christoffer Egelund, Copenhague, Danemark
Return to Rattlesnake Mountain, Wassaic Project, Wassaic, NY
HOPELESS, DUMBO Arts Festival, DUMBO, NY
Trash Talk, Spattered Columns Art Connects, NY, NY
COME AND GET IT, Hendershot Gallery, NY, NY
2011
Art Prize, Urban Institute for Contemporary Arts, Grand Rapids, MI
A Strange Attraction to the Beautiful and the Dreadful, Hendershot Gallery NY, NY, commissaire Maureen Sullivan
2010
Exhibitionism-The Art of Display, The Courtauld Institute, Londres, Royaume-Uni
2009
Fly By's, Galleri Cristoffer Egelund, Copenhague, Danemark
Young Masters, Cynthia Corbett Gallery, Londres, Angleterre (catalogue)
Will it Happen, Elga Wimmer Gallery, NY, NY
Word Up, Broadway Gallery, NY, NY
2008
In other Words, University of Massachusetts, Amherst, MA-This is not New York, This is Berlin, Salon Mastul e.V., Berlin, Allemagne
Inaugural Exhibition, DIEU DONNU+00C9, NY, NY
Suckers and Biters, Chashama Gallery, NY, NY (catalogue)
Devotion Reconstructed, Broadway Gallery, NY, NY
2006
RISD Biannual NYC, Exit Art, NY, NY, commissaire Robert Storr
Two Continents and Beyond: Waterways, Istanbul Biennale, Istanbul, Turquie
Flora, South Bend Regional Museum, South Bend, IN
RECOMPENSES ET BOURSES
2023
Robert Rauschenberg Foundation, Rauschenberg Residency, Captiva Island, Fl
2021
International Studio & Curatorial Program, Alumni Residency
2020
Cross Sectors Residency, Elsewhere Museum, Greensboro, NC
2018
Facebook Artists in Residence
College of Saint Benedict and Saint John's University, spring artists-in-residence, Collegeville, MN
Artist Resource Trust Grant
2017
Joan Mitchell Foundation Artist-In-Residence Program New Orleans
2016
Business Accelerator Grant, The Clark Hulings Fund
International Studio & Curatorial Program, funded by The Pollock- Krasner Foundation
2014
Process Space, Lower Manhattan Cultural Council five-month A.I.R., Governors Island, New York
2013
Pollock-Krasner Foundation Grant, NY, NY
Joan Mitchell Foundation Grant, NY, NY
Jerome Foundation Grant, (gifted through Smack Mellon), Minneapolis, MN
La Napoule Art Foundation, funded A.I.R., Mandelieu-La Napoule, France
2012
Smack Mellon, year long funded studio program, Brooklyn, NY
New York Foundation for the Arts Emergency Grant, NY, NY
Bemis Center for Contemporary Art, three-month funded A.I.R., Omaha, NE
2011
Hot Picks, Smack Mellon, Brooklyn, NY
Wassaic Project Artist Honorarium, Funded by Dutchess County Arts Board NY
Voted top installation at Art First, pole by the Corriere Di Bologna, Bologne, Italie
2010
Vierter Stock Projektraum, Berlin, Germany 2-month A.I.R. Funded by US Embassy
2009
The Art Prize, Young Masters and AXA Insurance, Londres, Royaume-Uni
IAAB, six-month funded A.I.R., Basel, Suisse
2008
Artist Projects, RISD, Material grant and student labor to make an installation
Oxbow Fellowship (re-granted from The Joan Mitchell Foundation) NY, NY
City Sol, Material Grant, NY, NY
D.U.M.B.O. Improvement District, Material Grant, Brooklyn, NY
PROJETS CURATORIAUX
2015-Present
Founded and run the curated artists exchange program ArtForArtists
2017
For Words, LABspace, Hillsdale, NY
2015-16
Co-founded of an annual 1-month artist-residency in northern Italy ArtGarda
2015
Day becomes Night, The Re-Institute, Millerton, NY
2013
AKA, Davidson Contemporary, New York, NY
In the Details, Wassaic Project, Wassaic, NY
2012
Another Side, The Re-Institute, Millerton, NY
BIBLIOGRAPHIE
2018
Collection & Collage: in the Studio with Ghost of a Dream, a short documentary by Southern
Foodways Alliance in partnership with 21C Museum Hotels
The Green Cube, Canadian Art, Septembre
Betting on the American Dream in Statistics of Hope, Filthy Dreams, 29 Mars
2017
A Devil To Pay- Ghost of a Dream at CES Gallery, Art and Cake, 23 Février
State of the Art at Mint Museum Uptown, Charlotte Magazine, Mai
'State of The Art' Compiles Cream of the Contemporary Scene, USA Today, 27 Janvier
2016
Considering the Environmental Damage Done by Art Fairs, Hyperallergic, 18 Octobre
Covering the Waterfront, ArtFCity, 6 Octobre
Ghost of a Dream's New Installation at Smack Mellon, Brooklyn, BlouinArtinfo, 15 Septembre
The Art of Interiors, Galerie Magazine, Automne
A Door Shattering Breakthrough at Denny Gallery's Pop Up, ArtFCity, 8 Juillet
9 Must-See Summer Group Shows, Artnet News, 30 Juin
When Innovative Art Meets Traditional Surroundings, Huffington Post, 26 Avril
Leftover Lottery Tickets Turned Into Stunning Art, Good Morning America, 22 Avril
'Be My Guest: The Art of Interiors' exhibit transforms, The Editor at Large, 20 Avril
Empty Manhattan Apartment Transformed Into Work of Art, Architectural Digest, 20 Avril
What Happens When Artists Take Over an Upper East Side Mansion, W Magazine, Avril 5
Be My Guest: The Art of Interiors- Seven Artists, ArtfixDaily Artwire, 21 Mars
New Minneapolis Institute of Art exhibit is all-American road trip, Star Tribune, Février
New Jepson Center Exhibit Celebrates Contemporary American Artists, Savannah Morning News, 20 Février
2015
5 Female Artist Break the Glass Ceiling at ADAA, ARTSY, 25 Février
The Wassaic Project: A Festival, Beautiful Flood, and Now Art, New York Times, 4 Mars
Desires, Dreams, and Excess, ARTFILE MAGAZENE, Février
Emission de la Semaine #58, TCQVAR, 16 Février
Ghost of a Dream. Gone the Sun, a la Galerie Paris-Beijing, France Fine Art, 8 Février
2014
Ghost of a Dream. Gone the Sun, anti-utopias, 22 Décembre
Pulse Dives Into New Waters in Miami Beach, Blouin ARTINFO, 4 Décembre
Piecing Things Together at PULSE Miami Beach, HYPERALLERGIC, 8 Décembre
Pulse launches 10th year with move to Miami Beach, Miami Herald, 4 Décembre
Kim Rugg and Ghost of a Dream Stand Out at PULSE, NewYork Observer, 4 Décembre
AMERICAN BEAUTY, Vogue Magazine, Août
BROOKLYN ARTIST BALL SETS THE TABLE, Interview Magazine, 17 Avril
At the Brooklyn Artist Ball, Gallerist/Observer, 18 Avril
The Brooklyn Artists Ball Had It All, Bedford and Bowery, 17 Avril
Highlights From The Brooklyn Artists Ball, Art F City, 21 Avril
Night at the Museum, Brooklyn Daily Eagle, 17 Avril
Ghost of a Dream, The Glamourai, 26 Mars
2013
Jour de Chance, Arts Libre, La Libre Belgique, Bruxelles, BE, 20 Décembre
GHOST OF A DREAM, Le Soir, Bruxelles, BE, 21 Décembre
HAUNTING AND COLLECTING, Agenda, Bruxelles BE, 5 Décembre
Get Lucky, Marie Claire, Bruxelles, BE, Décembre
Cinquante degrés Nord, Arte Belgique, Bruxelles, BE, 4 Décembre
Entre Triomphe et Tragedie chez Paris-Beijing, FEEVER, Bruxelles, BE, 26 Novembre
reative Time's Sandcastles Return, Rockaway Beach, Art In America, 13 Août
Creative Time Sandcastle Competition, Art F City, NY, NY, 12 Août
Second Annual Creative Time Sandcastle Competition, Time Out NY, 12 Août
Creative Time's Sandcastle Competition, W Magazine, 12 Août
Lottery Ticket Sculptures 'Ghost of a Dream', Huffington Post, 20 Mai
2012
Seven Deadly Sins, Beautiful/Decay, Fall
Recommended GO Brooklyn Studio: Ghost Of A Dream, ART F CITY, 7 Septembre
London Show Draws Winners, The Independent, Londres, Royaume-Uni, 19 Janvier
Watch the Birdie, The Metro, Londres, Royaume-Uni, 18 Janvier
In Your Dreams, Phoenix, Londres, Royaume-Uni, 6 Février
Ghost of a Dream Remember When Tomorrow Came, Artlog, 15 Février
Why Weren't You in Wassaic This Weekend?, hyperallergic.com, 8 Août
2011
The Wassaic Project: Our Favorite Art, Village Voice Online, 8 Août
Collectors Call, ARTFORUM online, 6 Mai
Giant Sculptures Made From Lottery Tickets, Wired UK, 5 Août
2010
Luck of the Draw, City Weekend, Beijing, Chine, 28 Octobre-10 Novembre
Husband-and-wife 'found' art team's exhibition weighs The Price of Happiness, Global Times, Beijing, Chine, 12 Octobre
Dream Ticket, World of Interiors, Juillet
VOLTA NY: Ghost of a Dream, Whitewall Magazine, 5 Mars
The American Dream as Illusion, The Reading Eagle, Reading, PA, 28 Mars
Medium Voltage, ARTINFO, Mars
The Art of Discarded Lottery Tickets, Yatzer.com, 4 Août
2009
Award-Winning Artist Master Raphael and Durer, The Independent, Londres, 13 Novembre
Young Masters, Art of England, Issue 63
Scope Basel, Premier Art Scene Magazine, 2009
Top 10 Artists at Art Basel, Volta and Scope, Satchi.com, 10 Juin
2008
Time Out New York, NY, NY, 18-31 Décembre
For Biennial Fans, Providence Journal, Providence, RI, 6 Mars
Dream Ride, Intersection Magazine, Printemps
Lottery Tickets become Dream Car, Providence Journal, Providence, RI, 18 Mars
INTERVIEW OF GHOST OF THE DREAM
GHOST OF A DREAM

Published by: Galerie Paris-Beijing