Les photographies de Zhang Kechun reflètent le calme et l'empathie avec laquelle l'artiste s'est approché de son sujet : l'idée d'un voyage initiatique née en effet de la lecture d'un poême de Zhang Chengzi intitulé River of the North. Zhang Kechun a voyagé pendant deux ans à travers différentes régions à partir de l'estuaire du Fleuve dans la province de Shandong jusqu'à arriver à sa source dans les montagnes Bayan Har.
Son style fortement inspiré de la représentation traditionnelle du paysage combiné à une approche photographique objective, des traces humaines sont toujours visibles, l'urbanisation omniprésente et le développement industriel a atteint les zones rurales les plus reculées. Sa palette englobe les teintes jaunâtres du plateau de Loess et les noirs profonds des industries extractives qui polluent les sols sans répit. Des détails légèrement saturés soulignent parfois des apparitions inattendues dans des endroits abandonnés et fantomatiques, offrant au cliché des nuances poétiques et presque surréalistes. Ici l'impact de l'homme sur les paysages en pleine mutation, cohabitent étrangement avec l'image nostalgique et statique du grand fleuve.
Zhang Kechun est né à Bazhong dans la province de Sichuan en 1980. Il vit et travaille actuellement à Chengdu. Zhang a remporté le prix Découverte au Festival de la Photographie d'Arles en France. Ses œuvres ont été présentées lors d'expositions telles que le Musée de la Photographie en Allemagne, la Biennale d'Art Contemporain de Bangkok et le Festival de la Photographie d'Arles. Ses œuvres examinent les paysages post-industriels de la Chine. Il capture des scènes épiques avec des appareils photo grand format qui revêtent une signification importante en termes d'identité nationale. Zhang explore la relation entre le patrimoine culturel et l'influence de la modernisation.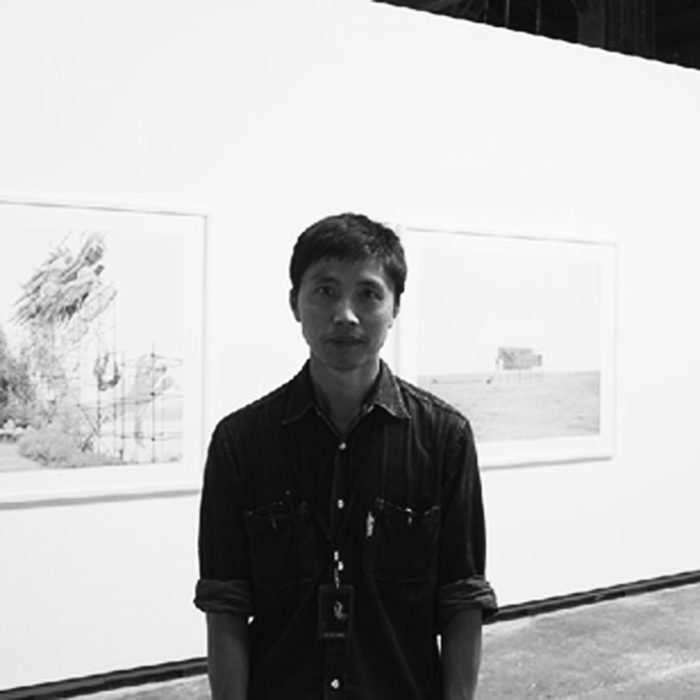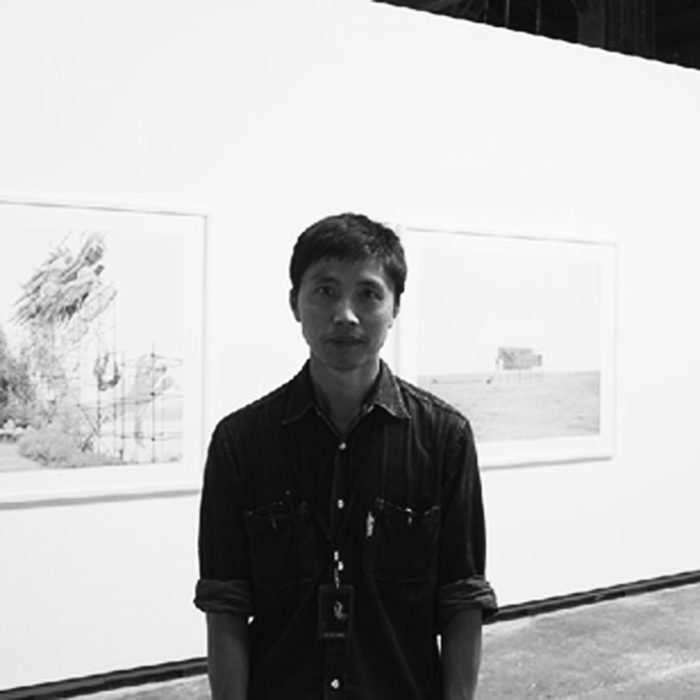 Né en 1980, à Bazhong, Province du Sichuan, Chine.
Vit et travaille à Chengdu, Province du Sichuan, Chine.
COLLECTIONS
Museum of Photography, Berlin, Allemagne
Baltimore Museum of Art, États-Unis
KADIST, San Francisco, États-Unis
Bangkok Art Biennale Foundation, Thaïlande
A4 Art Museum, Chengdu, Chine
Chengdu Contemporary Image Museum, Chine
Chinese Image and Video Archive, Canada
Williams College Museum of Arts, États-Unis
CAFA Art Museum, Chine
EXPOSITIONS PERSONNELLES
2022
Yellow Mood: Along a River and Mountains, Geological Museum, Ramat HaSharon, Israël
2020
Chinese Landscape, Yima Gallery, Chengdu, Chine
2019
Where the River Bends, Three Shadows Photography Art Centre, Beijing, Chine
Zhang Kechun: New Work, Huxley-Parlour Gallery, Londre, Royame-Uni
Yellow Ricer of China, Wanda Hollensteiner Gallery, The Wright Museum at Beloit College, Wisconsin, États-Unis
2016
Zhang Kechun – Between the Mountains and Water, La Galerie Paris 1839, Hong Kong
Zhang Kechun, Huxley-Parlour, Londre, Royame-Uni
Zhang Xiao & Zhang Kechun, Double Solo Exhibitions, Aki Gallery, Taipei
2015
The Yellow River solo Exhibition, La Galerie Paris 1839, Hong Kong
The Metaphorical River, 10 Corso Como, Shanghai, Chine
2014
The Yellow River, Three shadows +3 gallery, Beijing, Chine
EXPOSITIONS COLLECTIVES
2023
Echo of Water, Yinchuan Museum of Contemporary Art, Yinchuan, Chine
Interface, Agtrix3 Gallery, Tokyo, Japon
2022
Group show: Zhang Kechun, Wang Qingsong, Yao Lu, Andong Culture and Arts Center, Andong, Corée du Sud
More than Meets the Eye: 10 Years of Three Shadow+3 Gallery, Three Shadows Photography Art Center, Beijing, Chine
2021
A Show about Nothing, By Art Matters, Hangzhou, Chine
2020
Bangkok Art Biennale, Bangkok, Thaïlande
Not standing still, Museum of Australian Photography, Melbourne, Australie
Art and Architecture Festival, K11 Museum, Shanghai, Chine
Epoch Art Museum, Wenzhou, Chine
Les flots écoulés ne reviennent pas à la source. Regards de photographes sur la rivières en Chine, Jumièges Abbey, France
China Imagined, Breda Photo 2020, Grote Kerke (Big Church), Breda, Pays-Bas
2019
A Stitch in Time, Curated by Du Huang, Jonathan Harris, Today Art Museum, Beijing, Chine
Golden Panda Photography Awards 2019 Exhibition, Chengdu Contemporary Image Museum, Chengdu, Chine
2018
Seoul Photo Festival 2018, Brave New World, Seoul Museum of Art, Seoul, Corée du Sud
Social Geography: Ten Journeys with a camera, Shanghai Center of Photography, Shanghai, Chine
Working on History – Contemporary Chinese Photography and the Cultural Revolution, Museum of Photography, Berlin, Allemagne
Mountain Water River Lake: New Media Art Exhibition, Luozhongli Art Museum, Chengdu, Sichuan, Chine
Paesaggi Critici, Centro Internazionale di Fotografia, Palermo, Italie
2017
FotoFest – International Discoveries VI, Silver Street Studios, Houston, États-Unis
Working on History, SMB, Museum of Photography, Berlin, Allemagne
DongGang International Photo Festival, DongGang Photo Museum, Corée du Sud
Athens Photo Festival, Benaki Museum, Athens, Grèce
Fotográfica Bogotá 2017, FOTOMUSEO National Museum of Photography in Colombia, Bogota, Colombie
Chinese Contemporary Photography, Tel Aviv, Israël
2016
Daegu Photo Biennale Repositioned Personal, Daegu, South Korea
Start Ching Conceptual Space, Blue Roof Art Museum, Chengdu, Chine
2015
Art Souterrain, Montreal, Canada
Dunhuang—Song of Living Beings, Himalayas Museum, Shanghai, Chine
2014
09 years since the new photography in China, The Wuhan Museum of Art, Hubei, Chine
Les Rencontres d'Arles, Arles, France
Lianzhou Foto Festival, Lianzhou, Chine
Contemporary Photography in China 2009-2014, Minsheng Art Museum, Shanghai, Chine
The Yellow River, Three shadows +3 Gallery, Beijing, Chine
2013
The 4th edition of PHOTOQUAI world photography Biennale, Musee du Quai Branly, Paris, France
L'Iris d'Or Award Exhibition, Somerset House, London, Royaume-Uni
1st Beijing Photo Biennial, The China Millennium Monument, Beijing, Chine
Delhi International Photography Festival, Delhi, Inde
Dali International Photography Biennale, Dali, Chine
LOOK3 Festival of the Photograph, Charlottesville, États-Unis
Chengdu Multi-dimensional View Photo Exhibition, Fanmate Art Museum, Chengdu, Chine
Remote Places, Close Spaces – Street Level Photoworks, Glasgow, Royaume-Uni
Future Master Exhibition, Winshare Art Museum, Chengdu, Chine
2012
Get It Louder, Sanlitun Village, Beijing, Chine
The Interactions – Yixian International Photo Festival, Yixian, Chine
Angkor Photography Festival, Siem Reap, Cambodge
There There – Photographic Exhibition, Cork City, Irelande
Jinan International Photography Biennale, Jinan, Chine
CAFAM – Future Exhibition, CAFA Art Museum, Beijing, Chine
Crossover: The 2013 Three Shadows Photography Award Exhibition, Three Shadows Photography Center, Beijing, Chine
2010
Right In Front of Your Eyes Exhibition, Chengdu International Photography Center, Chengdu, Chine
Southern Documentary Photography Exhibition, Guangdong, Chine

RECOMPENSES
2023
Sony World Photography Award, 1er prix
2019
Golden Panda Photography Awards, Lauréat
2014
Prix Découverte des Rencontres d'Arles, Lauréat
Prix Daynight Photo, Lauréat
Prix HSBC pour la Photographie, Nommé
2013
Sony World Photography Awards, Nommé
2012
Sony World Photography Awards, Nommé
2008
National Geographic Picks Global, Lauréat
PUBLICATIONS
2018
The Yellow River, Ilford Archiva Prestige
2017
Contemporary Chinese Photographer and Cultural Revolution, Kerber Bielefeld Berlin